Always on the lookout for new ways to grab the attention of potential customers, manufacturers and dealers look to a variety of marketing channels. In the emergency vehicle and supply industry, referrals and word-of-mouth are usually the most reliable in drumming up sales, but what do you do when you need to build up awareness and interest first? A lot of manufacturers and dealers target sponsoring an event as a perfect way to do this, allowing them to network with key influencers and score referrals.
Unfortunately, this couldn't be farther from the truth.
In a survey recently completed by The Hinge Research Institute they consulted with almost 1,200 managers and c-suite professionals in a wide range of industries to see what marketing techniques most resulted in interest and referrals. Through this survey, it was uncovered that sponsorships and networking events associated with them were the least effective way to get more referrals. Less than one percent of respondents learned about the manufacturers or dealers sponsoring the event and only 3.4% found the networking portion included in these types of events effective for finding and recommending potential partners.
What is the problem with sponsorships?
Although sponsorships are great for increasing your brand awareness, they are second-rate at pitching your company's value. Having your name displayed on the event brochure or a banner at the front table doesn't do anything to sway an individual who has no idea what your organization can offer them.
Sponsorships only work for you if they offer you a chance to pitch – for example, having a chance to speak briefly to the group of influencers at the event or including a relevant article in the event booklet. They are also useful if they demonstrate your involvement in a group that is crucial to your business. An example of this can be seen with our own client, Ten-8 Fire Equipment. A dealer of firefighting equipment, they continuously sponsored events for the Firefighter Cancer Support Network. Showing your support to an important cause to your target audience is a powerful and worthwhile endeavor for sponsorship.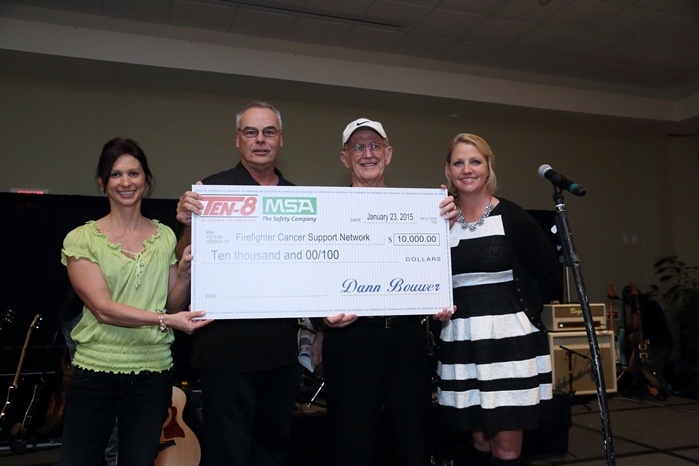 Besides these rare occasions, sponsorships usually don't pay off in the end. So what can you do instead?
How to get referrals without sponsorships:
Check out the graph below. There are a number of referral techniques that can be very effective, one of them being reciprocity. Having a relationship with other vendors and manufacturers in your industry works out well when you refer each other for different products and services. Of course, this would not work out so great with direct competitors, but there are usually plenty of complementary businesses in your industry that could benefit from your referrals and you from theirs!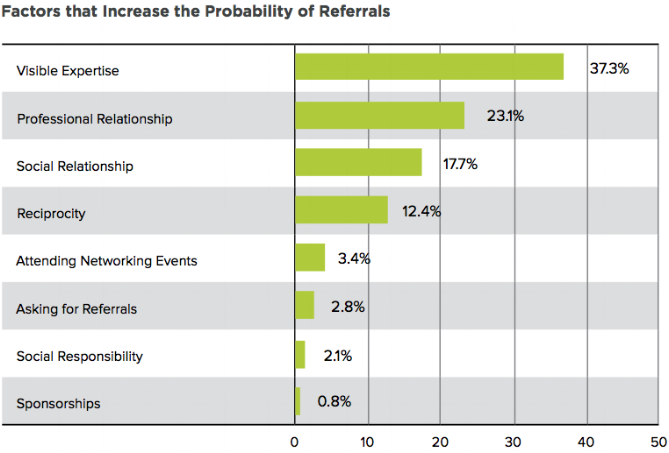 Also, establishing professional and social relationships with key influencers can also be very worthwhile. With both professional and social interactions, there are many chances for you to display your organization's expertise and knowledge of the industry. Like sponsorships, if your contacts don't know what you do, they aren't going to refer you.
By far, the greatest source to get more referrals is showing Visible Expertise – which involves positioning your company and its employees as well-known industry experts. You can develop this type of visibility by having your knowledgeable staff speak at industry events and publishing valuable thought-leadership pieces in trade publications, newsletters, and online.
As far as marketing techniques, another Hinge study discovered that the five top channels that yielded the greatest return were, in order:
Speaking engagements
Book or other informative content
All the above tactics would be a part of an overarching inbound marketing strategy that TBG works through with each of our customers. This is the clear winner for demonstrating expertise, building visibility and value for your firm, and influencing key professionals to refer your company to others.
So the next time your firm is offered a sponsorship opportunity, you might want to politely pass on it -- unless it presents a solid opportunity to speak to a group of business influencers or show your support for an important group or topic in your industry.
If you want help on setting up an inbound campaign to include some of these proven techniques for getting more referrals, try downloading our guide here for a starting point. Any questions or help needed going forward, feel free to give us a call!