A few blog posts back we talked about the Top 5 Marketing Trends in 2017. One that made our list was Native Advertising; a marketing strategy that is expected to reach $21 billion in spend by 2018. It is defined as "a paid ad that is so cohesive with the page content, assimilated into the design, and consistent with the user experience that the viewer simply feels that it belongs."
Let's take a moment to look at a simple, traditional example from our customer portfolio to gain a better understanding of what we're talking about.
Braun Industries is an ambulance manufacturer. In a past marketing campaign, they wanted to raise awareness for their ambulance crash testing program. Partnering with JEMS: Journey of Emergency Medical Services, they placed a print advertorial talking about their first crash test conducted. Designed to look like an article inside the magazine, the piece was product focused and included "Paid ad by Braun Industries, Inc." in the top right corner to identify it as an ad. It was educational in nature, with a heavy focus on the data collected and what it means for improving the safety of EMS vehicles.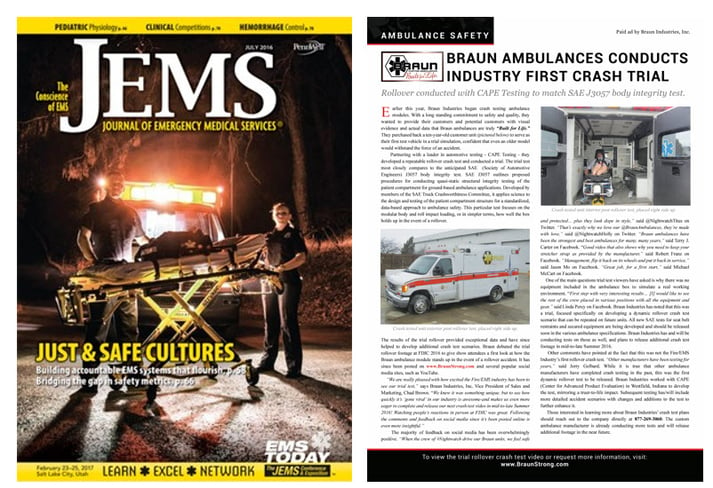 Native advertising online works in much the same way as it does offline. The goal is to promote products/services without the customer leaving the experience they're engaging in.
Types of Native Advertising Online:
In-Feed Native Ads – Stories that look like they're part of a news feed.
Search & Promoted Listings – Ads that appear in a search; PPC is the most commonly known.
Content Recommendation Widgets – Paid content recommendations based on browsing and buying habits, easily identifiable through headlines such as "You might also like…"
Promoted Listings – Products promoted on e-commerce sites listed in the same fashion as the other products/services being offered – think Etsy and Amazon.
Data on Native Advertising
Now that you understand a bit about what native advertising is and what types exist, you might be wondering why you should give it a try. Here are some quick stats on the effectiveness of Native Advertising.
51% of 18 to 44 year-olds are more likely to trust branded content than traditional advertising - consumers don't want to be sold today. (StackAdapt)
Consumers interact with native ads 20% to 60% more than they do with standard banner ads. (MediaPost)
Reading a native ad headline yields 208 times more consumer attention than processing an image or a banner. (HubSpot)
With more and more marketers spending money on Native Advertising, this is expected to be the future of all digital marketing. Now is the time to experiment with Native Advertising and understand how it works best for your business. If you need help getting started, contact us.