In this day and age, it doesn't matter if you run a brick and mortar shop – you still need to have an online presence that people can easily find and use to locate information about your business. If people can't find your phone number or address or store hours within a few minutes, chances are they will give up and move on. Obviously, the importance of this web presence is tenfold if you are a business run solely online (or if part of your products/services are offered primarily via the web).
A big part in successfully leading people to you online is protecting your brand from others. Grabbing your company name as a domain is critical in ensuring it doesn't fall into the wrong hands. There are many reasons that someone would want to snatch up your domain name (or variations) before you do, including disgruntled ex-employees, competitors wishing to drive your traffic to their site, or auction hunters looking to seize your name and force you to pay a premium to claim it back. We've witnessed all of these situations with our clients and it's much easier (and cheaper) in the long run to secure them for yourself now, even if you don't plan to invest in a complex website just yet.
Maybe you're thinking, "But I'm a little shop. I don't have disgruntled employees or malicious competitors. I'm nice enough and don't have any enemies."
That might all be true, but it still doesn't safeguard you from a major headache that could have been avoided for a mere $15/year.
And if you're still not convinced, consider this:
If it can happen to a presidential candidate, it can happen to you.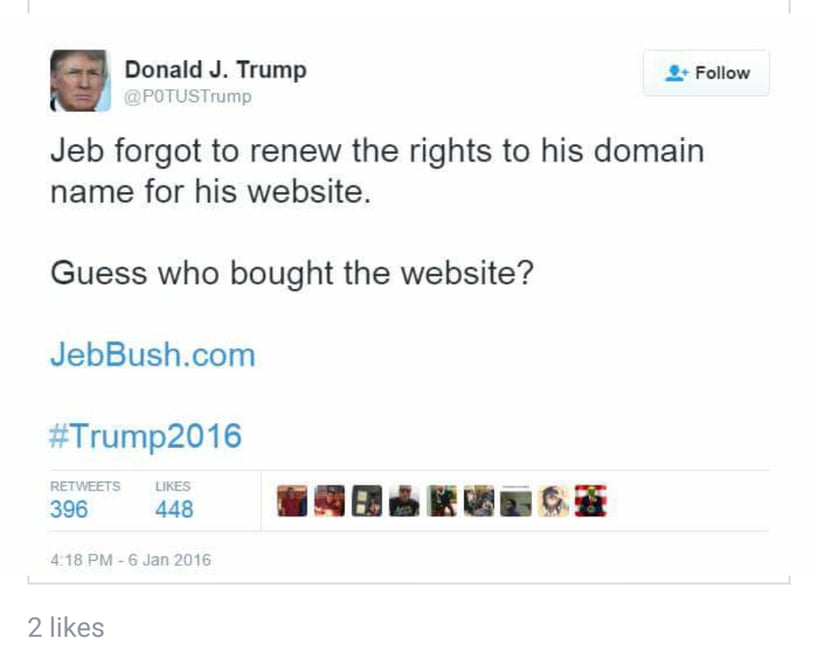 This happens every day to businesses and brands just like yours. This is one of those situations where it really is better to be safe than sorry. In order to make sure you protect yourself when it comes to domain names and registrations, follow these tips below.
Tips for Choosing a Domain Name For Your Business:
Protect your brand now. Even if you don't have a current online presence, grab your relevant domain names now. Don't wait for someone else to grab it, especially the .com version. With so many variations available today, like .net, .co, .us, etc. a lot of people think it's not that big of a deal to secure a variation domain if someone else already has the .com version of it. While it's true you can build a successful business without having the .com, it is still the default that people go to when typing in a domain name. That means if you have JimsLawnCare.net and someone else has JimsLawnCare.com, chances are someone trying to find you is going to assume it's .com. If it's a competitor that has the .com, maybe they stick around on their website and never make it to yours. Along the same lines, consider securing your actual name as a domain, especially if you're a thought leader in your industry.
Consider keywords and locations in the domain names you claim. If there are certain industry-relevant keywords within your company name, it's best to buy the domain that incorporates this. Some people focus on abbreviations of the company name to make it easier for people to type into their browser, which is a perfectly reasonable point. Take for instance if the company was named Jim's Landscape and Lawn Care Service and they grabbed the domain name JimsLawnCare.com. That's totally fine – but they should forward it to a more expansive domain name like JimsLandscapeAndLawnCareService.com. This domain hits more of the keywords for this industry (like landscape, landscape service, lawn care service). Google looks for certain keywords within the URL as one aspect of understanding what the page (or website) is about. You want people to find your site when they search those keywords, so having them in your domain gives you a one up on competition that doesn't. Furthermore, if you are part of a franchise or have multiple, independent locations, it would be advantageous for you to also grab a domain that includes your location (like JimsLawnCareTownName.com). This will help your local rankings and validate to people looking for your specific location that they're in the right spot.
Double check that your domains are set to auto-renew. There's a whole aftermarket industry built on auctioneers buying domains that were left to expire by accident. These people snatch up the domains once they expire and then sit on them until the old owners realize the mistake and come looking to buy them back. Of course, to re-acquire your domain name after this situation, be prepared to fork over a lot of cash. Collecting domain names is a business for some, and they aren't going to hand it back for cheap. Not only do you want to ensure your domains are set to auto-renew, you must also be mindful of the credit card you have on file. Confirm you have a valid email address tied to your domain registrar account so you get email alerts if your credit card needs updated. Even if the domain is set to auto-renew, it will still expire if you don't pay for it!
Check into the domain's past before purchasing it. Although this is a less common issue, it's still a valid point to consider since your whole web presence will be built around the domain name you choose. Some domains could have been used in the past for malicious or inappropriate content and have flags with Google or other security software. Aside from hiring a lawyer, you can do some investigating yourself by visiting www.whois.net, which lists registered domain names. The site includes expired domains up for grabs, and you can learn what other possible legal landmines a name comes with.
Whether you're posting a one-page web presence or strategizing for a complex ecommerce site, your domain name is a very important aspect of how visitors will perceive you online. Just like in real life circumstances, you want your location to be easy to find for visitors and not be in a shady part of town. They should feel safe and secure when coming to see what you have to offer, and you definitely don't want your address leading them to your competitors to shop! Keep these tips in mind when purchasing a domain to represent your business.
After you've acquired your domain and launched a website for yourself, you want to make sure people know you're a trustworthy source. With the launch of a brand you, need to promote the quality of your work with satisfied customers. Learn how to get quick and easy Google reviews for your business with our free whitepaper today!