With the rise of cyber-attacks and data hacking, it's no wonder that industry giants like Google are looking for ways to force the internet into becoming more secure. The first step toward more security is strongly encouraging all websites to have an SSL certificate.
What exactly is an SSL certificate?
An SSL (Secure Sockets Layer) is the standard security technology for establishing an encrypted link between a web server and a browser. This link ensures that all data passed between the web server and browsers remain private and integral.
Do I really have to get an SSL certificate for my website?
Technically, no. Your website won't be shut down or blasted off the interwebs for not having an SSL. At least, not yet. But your site will be penalized by major web browsers for not having it. Visitors may also be alerted that your site is not secure, providing them the dreadful message in the vein of "proceed-at-your-own-risk."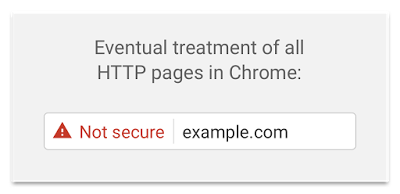 Specifically, Google announced that from Chrome 56 onwards (available in January 2017), they will begin marking HTTP pages that collect passwords or credit cards as non-secure. That means any type of website that includes a content management system (where one logins into their site to make updates) will be part of this initial target for enforcing an SSL certificate. And, the most popular open-source CMS system, Wordpress, announced as well that in 2017, there will be features within its interface that require SSL to function.

Other benefits of having an SSL certificate for your site:
Even if your site doesn't have a content management system, having an SSL will improve your search engine optimization, as Google now uses it as a contributing factor to your site rankings. It can also help improve your website's loading speed, which will be a great upgrade from a usability standpoint. Also, as Google points out in their announcement, those sites that collect credit card information and usernames/passwords are only the first to be targeted. The plan is to push all websites, no matter the functionality, to having an SSL soon, so it's best to comply now than be stuck with figuring out the process later when it becomes required.
With 2017 just around the corner, it is imperative that all websites work to have an SSL certificate as soon as possible to reap the benefits and avoid the penalties forthcoming. TBG can help any company that would like to become compliant with an SSL certificate. Contact us today and start the new year off right!