With 2016 fast approaching, many businesses take a look at where they are today and start making business resolutions for where they want to be a year from now. If you have a business and you don't have a website, that should be on the top of your list. If you do have a website and it isn't responsive, move that up to a priority spot as well.
But what does responsive web design even mean?
Maybe you've heard it in passing – your site should be responsive. Or people have questioned you if your site is mobile-friendly. Are these the same thing? Yes and no.
For a site to be mobile-friendly, it usually means the site includes a mobile template, making it for easier people on a smartphone to view your webpages. The design is made specifically for small screens, scrolling through and pushing button options with a finger instead of a mouse.
But users of the internet aren't restricted to just desktop or mobile. There are also multiple forms of tablets, as well as varying screen sizes for laptop, desktops, and smartphones. With so many different sizes and resolutions to adhere to, your site needs to be responsive to satisfy them all.
In other words, you site needs to respond to the environment it is put in and display the content accordingly. That's the definition of responsive design.
We won't get into the technical nitty gritty of how responsive design is done – this is a marketing blog, not a design blog! However, seeing it in action with a real website helps explain it. Take, for example, the photo below that displays one of our client sites on multiple devices. It is the same site, but it changes its appearance depending on what device and screen size the visitor is viewing the website from.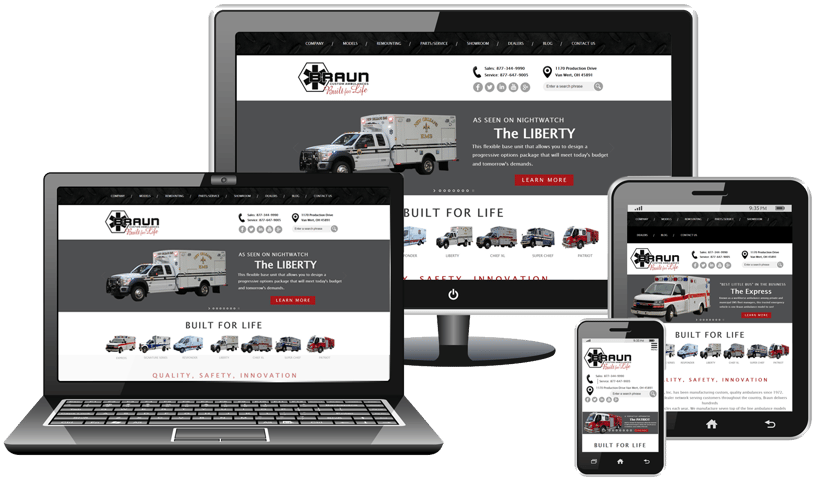 We've been preaching the importance of responsive web design for many years, but when Google made the announcement in Spring of 2015 that it would start penalizing sites that weren't optimized for mobile users, it became apparent that responsive web design isn't a strongly recommended element anymore; it's now a requirement. And looking at digital marketing trends for 2016, catering to the mobile user is only going to become more paramount.
If you're interested in learning more about the ins and outs of responsive design, we suggest reading Responsive Web Design by Ethan Marcotte. He oversaw the responsive redesign of the Boston Globe, the largest responsive website redesign to date.
Looking to dive into a new website project in 2016? Responsive design is only one of the many elements you should consider. For more tips on launching a site that serves your customers and delivers on your marketing goals, check out our free Top Design and Usability Considerations for Your New Website whitepaper.